Posts for tag: tmj disorders
By Eagle Dental
June 02, 2021
Temporomandibular joint disorder (TMD) is an umbrella term for a number of chronic jaw problems. These conditions cause recurring pain for 10 to 30 million Americans, especially women of childbearing age.
But even after decades of treatment and research, a full understanding of TMD's underlying causes eludes us. That doesn't mean, however, that we haven't made progress—we have indeed amassed a good deal of knowledge and experience with TMD and how best to treat it.
A recent survey of over a thousand TMD patients helps highlight the current state of affairs about what we know regarding these disorders, and where the future may lie in treatment advances. Here are a few important findings gleaned from that survey.
Possible causes. When asked what they thought triggered their TMD episodes, the top answers from respondents were trauma, stress and teeth clenching habits. This fits in with the consensus among experts, who also include genetic disposition and environmental factors. Most believe that although we haven't pinpointed exact causes, we are over the target.
Links to other disorders. Two-thirds of survey respondents also reported suffering from three or more other pain-related conditions, including fibromyalgia, rheumatoid arthritis and chronic headaches. These responses seem to point to possible links between TMD and other pain-related disorders. If this is so, it could spur developments in better diagnostic methods and treatment.
The case against surgery. Surgical procedures have been used in recent years to treat TMD. But in the survey, of those who have undergone surgery only one-third reported any significant relief. In fact, 46% considered themselves worse off. Most providers still recommend a physical joint therapy approach first for TMD: moist heat or ice, massage and exercises and medications to control muscle spasms and pain.
These findings underscore one other important factor—there is no "one size fits all" approach to TMD management. As an individual patient, a custom-developed action plan of therapy, medication, and lifestyle and diet practices is the best way currently to reduce the effects of TMD on your life.
If you would like more information on TMD management and treatment, please contact us or schedule an appointment for a consultation. You can also learn more about this topic by reading the Dear Doctor magazine article "Chronic Jaw Pain and Associated Conditions."
By Eagle Dental
December 20, 2019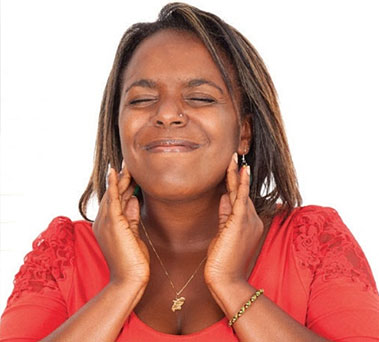 Fibromyalgia is a chronic condition that produces widespread pain and stiffness in the muscles and joints. The pain, muscle spasms and tingling it causes can disrupt sleep, alter moods and impair memory function.
Dealing with just this one condition can be overwhelming. But did you know 3 out 4 fibromyalgia patients also develop chronic pain and dysfunction involving their jaw joints? Known collectively as temporomandibular joint disorders (TMD), these jaw joint problems cause pain, muscle spasms and difficulty moving the jaws that can interfere with eating and speaking. TMD can also contribute to headaches and earaches.
Many researchers believe this prevalence of TMD among fibromyalgia patients stems from both conditions originating from the same primary cause—a malfunction within the central nervous system. In both cases, the brain and spinal cord may not be able to process pain signals in a normal fashion. This malfunction could also be generating and amplifying pain signals even when nerves are receiving no stimulation.
For decades now, the most effective treatment strategy for TMD has been to manage the symptoms with physical therapy and exercises, thermal therapy or medications. Relief for fibromyalgia has depended on medication and relaxation techniques like biofeedback therapy. But with the evidence of some connection between the two conditions, it may be helpful to coordinate treatment for both with a team approach involving all your healthcare providers, rather than treat them separately.
To that end, make sure both your dentist or physician treating you for TMD and your physician treating your fibromyalgia each know about the other condition. Consulting together, your healthcare team may find treatments (like certain drugs that counteract neurotransmitter imbalances) that might help reduce symptoms in both conditions. And cognitive-behavioral therapy, meditation and other therapeutic pain management techniques can help you cope with the pain.
Continued research into these two debilitating conditions and the possible links between them may have an effect on how we treat both. A holistic approach to treating them could be the wave of the future.
If you would like more information on the links between TMD and other chronic pain conditions, please contact us or schedule an appointment for a consultation. You can also learn more about this topic by reading the Dear Doctor magazine article "Fibromyalgia and Temporomandibular Disorders."
By Eagle Dental
January 31, 2018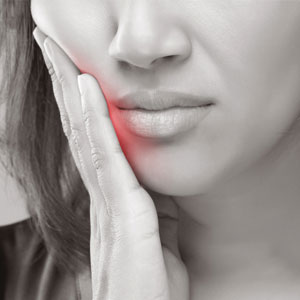 Your temporomandibular joints (TMJ), located where your lower jaw meets the skull, play an essential role in nearly every mouth function. It's nearly impossible to eat or speak without them.
Likewise, jaw joint disorders (temporomandibular joint disorders or TMD) can make your life miserable. Not only can you experience extreme discomfort or pain, your ability to eat certain foods or speak clearly could be impaired.
But don't assume you have TMD if you have these and other symptoms — there are other conditions with similar symptoms. You'll need a definitive diagnosis of TMD from a qualified physician or dentist, particularly one who's completed post-graduate programs in Oral Medicine or Orofacial Pain, before considering treatment.
If you are diagnosed with TMD, you may then face treatment choices that emanate from one of two models: one is an older dental model based on theories that the joint and muscle dysfunction is mainly caused by poor bites or other dental problems. This model encourages treatments like orthodontically moving teeth, crowning problem teeth or adjusting bites by grinding down tooth surfaces.
A newer treatment model, though, has supplanted this older one and is now practiced by the majority of dentists. This is a medical model that views TMJs like any other joint in the body, and thus subject to the same sort of orthopedic problems found elsewhere: sore muscles, inflamed joints, strained tendons and ligaments, and disk problems. Treatments tend to be less invasive or irreversible than those from the dental model.
The newer model encourages treatments like physical therapy, medication, occlusive guards or stress management. The American Association of Dental Research (AADR) in fact recommends that TMD patients begin their treatment from the medical model rather than the dental one, unless there are indications to the contrary. Many studies have concluded that a majority of patients gain significant relief with these types of therapies.
If a physician or dentist recommends more invasive treatment, particularly surgery, consider seeking a second opinion. Unlike the therapies mentioned above, surgical treatments have a spotty record when it comes to effectiveness — some patients even report their conditions worsening afterward. Try the less-invasive approach first — you may find improvement in your symptoms and quality of life.
If you would like more information on treating TMD, please contact us or schedule an appointment for a consultation. You can also learn more about this topic by reading the Dear Doctor magazine article "Seeking Relief from TMD."